Hiya bookish people!
I was tagged by Beck @ Smellfoy Can Read?! For this award, and I have to give Beck a massive thank you because she is an amazing blogger and I always love reading her posts! Without further ado, let's begin!
Rules:
Thank the blogger(s) who nominated you in a blog post and link back to their blog.
Answer the 11 questions set by the person who nominated you.
Nominate 11 new blogs to receive the award and write them 11 new questions.
List the rules and display the Sunshine Blogger Award logo in your post and/or on your blog.
🌷 Favorite Disney Fox: Robin, Todd, or Nick? 🌷
I would have to say Todd, he somehow is just far cuter! I mean, look at him!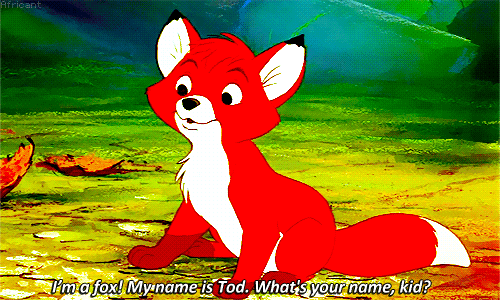 🌷 What's your favorite bridge? (did you understand that reference?) 🌷
I sadly do not, forgive me Beck!
🌷 What's the WEIRDEST thing you can think of about yourself? 🌷
I love frogs, their awesome. Dunno why but that's the weirdest thing I immediately thought of.
Here's a photo of my plush Mr Toad from Toad Hall (Wind in the Willows).
🌷 Just write an inside joke: no context. Just put in the inside joke. Right now. Do it. 🌷
Sounds like a plan Stan the man who likes to eat ham but can't find his aerosol can and neither can his brother Sam.
🌷 FAVORITE THANOS QUOTE? 🌷
"Your optimism is misplaced" – me being a pessimist to all my optimistic friends.
🌷 Would you rather: have bunches of followers but no comments/views or bunches of comments/views but no followers? Why? 🌷
I would rather have comments / views and no followers because I love it when people take the time to actually talk to me on my posts, but feel that sometimes following another person will end up just being another email to read.
🌷 If you had to write a commercial on the one thing you hate, what would it sound like? What would the slogan be? SWAY ME, YOU SLY BUSINESS HUMAN 🌷
Here is fly spray. It makes the fly's go away.
That's it, because it rhymes. Be swayed!
🌷 What was your favorite book as a child? 🌷
There's a Hippopotamus on my Roof Eating Cake.
Best children's book ever, 100/10 recommend it.
🌷 What is the first thing you see when you open your refrigerator? 🌷
Give me some food, you hunky chill box, you.
🌷 If you could participate in one historical event, which would it be? 🌷
Some sort of assasination, I don't want to assassinate but rather witness and say I was 'involved'.
🌷 Are you secretly afraid of nostril hair? 🌷
No I am not, however it does seem gross
I NOMINATE
MY QUESTIONS
Where do you want to live? Do you think you will stay near where you grew up / where you are now?
What is one thing you don't have with you right now that you wish you did?
What is your guilty pleasure book?
What is your horoscope today? (I dunno, this one seemed fun)
What is the craziest thing you and your friends have done together?
Current series that you are watching?
Have you seen the Witcher? (IF YES DO YOU LIKE TOSS A COIN TO YOUR WITCHER?!?!)
Have you had enough water today, my good friends?
What is your favourite flower?
Who is your least favourite YA heroine?
Who is your favourite animal sidekick in YA?