Hiya bookish people!
So! I am currently Tackling the TagsTM so please bare with me! The next couple of Fridays will have doubled up tags, I hope you all stick around to read them!
Sophie at Sophie's Corner tagged me to do the 'I Should Read That Book Tag' back in February! Woops! Sorry Sophie, I didn't mean to fall so far behind! Right, onto the tag!
THE RULES
Thank the person who tagged you and link back to their post
Link to the creator's blog (Beth @

Books Nest UK

) in your post
Answer the questions below
Tag 10 5 (that's what I'm doing at least) others to take part in the tag
Enjoy the tag!
🌷 A book that a certain friend is always telling you to read
Serpent and Dove (#1) by Shelby Mahurin. I haven't been told by anyone in particular to pick this one up, but it is one of many that I bought after seeing such amazing reviews about it from my other bloggers. Impulse buying – I swear I don't mean to do it!
---
---
🌷 A book that's been on your TBR forever and yet you still haven't read it
Leah on the Offbeat by Becky Albertalli. I absolutely loved Simon Vs, the Homosapiens Agenda, and What If It's Us, and Yes No Maybe So, so I don't know why I haven't actually picked this up yet. I guess I should put a request into my library as soon as I return these three. Yes I have three that I'm still reading. It's a work in progress.
---
---
🌷 A book in a series you've started, but haven't gotten around to finishing
A Heart so Fierce and Broken by Brigid Kemmerer. I got sent A Curse so Dark and Lonely as an ARC via Netgalley, and really really really enjoyed it. I have seen the sequel in my local stores and am determined to pick it up eventually, especially since I loved the first one so much. I remember being stoked that Bloomsbury had sent me a book. It was like a dream come true – especially for a relatively new blogger.
---
---
🌷 A classic you've always liked the sound of, but have never actually read
Ha, replace 'classic' with 'book' and you have the overall description of a TBR. I read The Picture of Dorian Gray when I was super young, and I didn't understand it. I can't even remember the plot. I'd love to reread it again because A. Oscar Wilde is an amazing wacko, and B. I have seen a lot, and I mean a lot, of tumblr humour about it. I now have a more warped sense of humour so I think I will be able to understand the humour better if I read it now.
---
---
🌷 A popular book that it seems everyone but you has read
It is on my TBR, but it seems that everyone has read Nicola Yoon's The Sun is Also a Star except for me! How? Why? That I will never know. The movie got really good reviews, too. It seems that a lot of the book-to-movie YA adaptations don't make it here on the big screen unless it is on Netflix first, which kind of sucks because seeing movies in cinema is super fun. I think the only YA book-to-movie that I've seen here was Paper Towns by John Green.
---
---
🌷 A book that inspired a film / TV adaptation that you really love, but you just haven't picked up yet
I watched TVD almost religiously and binged all eight seasons. But somehow, I just never actually picked up the books in The Vampire Diaries series. I've heard that the books and the show are very different in both plot and characters, so I honestly don't know if I am ever gonna read them. I think I have an idea in my head now and I think anything I read I won't particularly like because I have that opinion based off the TV series.
---
---
🌷 A book that you see all over Instagram but haven't picked up yet
Wilder Girls by Rory Power has a beautiful cover, and I can see why it is all over Instagram. I would really like to read it because it sounds kinda similar to the Gone series by Michael Grant, which I loved. Somehow, I still haven't read the spinoff series for that one, either. I'm bad at spin-off series. Why? I'll never know.
---
---
Alice at Love for Words tagged me to do the 'New Years Eve Book Tag' and I am really excited to do this one! Alice has a wonderful blog, so please do check it out!
THE RULES
Link back to the tag's creator (

Leelynn @ Sometimes Leelynn Reads

).
Thank and link back to the person that tagged you.
Feel free to use the pre-made graphics or create your own. Credit is appreciated if you do.
Answer the questions as best as you can. No answer is incorrect!
Tag some people to do this tag. No minimum or limit. Spread the love and have a happy 2020!
🌷 Good as Hell || Favourite Book
No!!! I can't pick one! My favourite is constantly changing as I read new books. Series wise? I can always count on TOG and TFOTA, and now TRC! They're really awesome and I highly recommend them to everyone reading this.
---
---
🌷 Green Light Go || Green Cover
After We Fell by Anna Todd has a green cover. I read this book recently (okay, yes, judge me but you'll never be able to judge me as much as I judge myself) and although I still really really disliked it, I have to admit that it is an improvement on the first two. There was slightly more plot, but not by a lot.
---
---
🌷 LBD || Sexist Character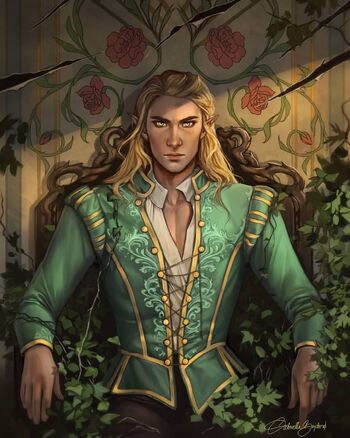 I'm gonna mention a series that I haven't talked about in a while; A Court of Thorns and Roses. Tamlin was so very sexist and controlling throughout the ACOTAR trilogy, but I adore Rhysand and Cassian. Azriel is wonderful, don't get me wrong, I just don't know enough about him to be able to love him like so many other ACOTAR fans.
---
---
🌷 Sin Querer Queriendo || Silly MC (or Side Character)
How could I not say Ronald Weasley, Harry Potter's best mate? Ron had some awesome ideas (and some not so awesome ones too) but his one liners are definitely amazing to watch. Ron made some questionable choices, but one thing I will never ever be able to disagree with him about is spiders. Nasty things.
---
---
🌷 Kill This Love || First Book in 2020
The first book I read this year was while I was in England (!! I still can't believe I went to England!!) was The Dream Thieves by Maggie Steifvater. It was amazing, and I learnt more about Ronan (babey! He is a child who needs love!) which I loved.
---
---
🌷 Dally || Best Moment of 2020
I went to the UK and Paris!! Definitely my major highlights, and I've included my favourite photos of the trip below.
🌷 7 Rings || New Books Friends
I've included the people I've tagged for the 'I Should Read That Book Tag' below, but I'm not officially tagging anyone in this tag since New Years was nearly three months ago. However! You are more than welcome to do this tag instead / too if you want to!
I have decided that I am only gonna tag five people for both tags, because I don't wanna overdo it and have no one to tag since I have a few backed up at the moment.
Please don't feel like you have to do these tags, but if you do please link back to me so I can see your answers!