Hiya bookish people!
I have a new schedule! I am gonna be posting NZ time Monday, Wednesday and Fridays! Yes, it is more than normal, but I wanna try bumping up my blog a bit. Mondays are for discussions, Wednesdays are for reviews and Fridays are for tags.
How is everyone? I decided to talk about something that is a real struggle for nearly every reader, which is book buying. Yeah, the title was extremely self-explanatory. Anyway, should we get into it?
🌷 Choosing what book to buy
Yeah. It's so easy for me to say that I want to buy every book on my TBR (which I do!) but assuming that every book on my TBR is at least $25.26* , then it will cost me about $ 1,035.66 (25.26 x 41). That's a lot of money to spend on anything, let alone just books. And that's using an average price, some books will definitely be more or less expensive than $25.26.
But seriously. Nearly every single time I walk into my local bookstore, I add another two books to my Goodreads TBR list. I can't help it. And I'll admit, occasionally I'll wait a couple of hours and reread the blurb to see if I'm actually interested in the book or if I was experiencing temporary FOMO. Still, I have about 41 books on my TBR. So what one do I buy?
Do I buy the sequels in a series that got released last year?
Do I buy the book everyone is currently talking about so I can understand the hype?
Do I buy the book that has been on my TBR the longest?
Do I buy the book with the nicest cover?
Do I buy the book that I'm most interested in reading right this very second?
Do I buy the special edition of a book I read and reread and reread?
Do I buy the book that I read at the library and loved?
Do I buy the book by the author I like the most?
Do I buy the book on the 'recommended for YA readers' poster?
Do I buy the book in this month's YA Goodreads newsletter?
Do I buy the book that would look the nicest on my current bookshelf layout?
Do I buy the copy of an ARC I got sent and loved to support the author?
*Check my math

These books were all randomly picked from my TBR and the prices are the set NZD price from my local book stores (with no discounts applies). The titles link to the Goodreads page.

A Thousand Perfect Notes ➳ $ 24.40
Reverie ➳ $ 30.95
After You ➳ $ 25.99
Still Me ➳ $ 26.99
Paper Butterflies ➳ $ 17.95
TOTAL : $ 126.28

AVERAGE (total / 5 ) : $ 25.26

All the books tempting me as I struggle to decide
🌷 Choosing what media to buy
And surely it should be as easy as saying, "Emma, come on. Hardcover obviously," and normally I would agree with you. But it really isn't that easy. There's a hardcover, which would be really nice and you get a cool dust jacket with the book. Or how about that special edition that looks so nice, and I'm mostly sure I'll love the book so a special edition would be nice. There's the paperback which will fit nicely into my bookshelf and would show age along with my love of the book. There's audiobooks which means I can listen to each chapter as it suits me at a nice cruising pace, and it means I can read while travelling or doing chores or light-studying. There are eBooks, perfect for easy travel and taking to school for breaks; plus you can transfer books from your devices as you need to which is an instant book to your device.
But there are cons for each of these, too. Hardcovers and special editions are significantly more expensive than some of the other available media types. Paperbacks are far too easy to damage and tend to fall apart after a few years of harsh lovin'. Audiobooks are a risky choice if you haven't used the narrator yet, and you may never finish the book if you don't have the time. Ebooks are all good and convenient, but you can't lend them out without giving away your whole library, or be able to get the awesome cover art to display.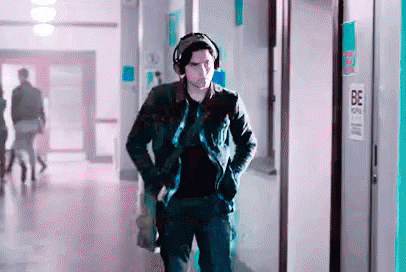 Me being moody listening to moody characters do moody things
🌷 Choosing where to buy them
Now normally I would say do your research, because there are a lot of different avenues you can use to find cheaper versions of the book you want. However, recently I have had a slight dilemma about ordering books online after reading Margaret at Weird Zeal's post about why she doesn't buy books from Amazon. Indiebound also has some articles on how Amazon has been injuring the book buying community. So I have been trying to consider other alternatives. I tend to not use Book Depository as much as I first did, but purely for informative purposes I will be listing Amazon and Book Depository and Audible.
Your local stores. Check online and instore, but sometimes the stores closest to you will have the perfect sale on, or a clearance bin or you might have credit at the store. Always check with them first, since supporting the book shops near you are important! The people there can also give you real life recommendations rather than "you liked this, try this next", which sometimes recommends you something you'd never even look at.
Second hand stores or garage sales. Your neighbor might have the book you were just looking for, or sometimes a preloved book with tiny notes scrawled in the margins is just what you need to fall even more in love with the book. Either way, second hand stores are always an adventure waiting to happen – plus they have heaps of hidden gems there that you otherwise wouldn't find from browsing your local store if it was printed a few years prior. Some examples for me are Small Blue Thing and Me Before You, which I got at a wonderful second hand store. I hadn't ever heard of Small Blue Thing before and now I really really enjoy it!
Online. Online tends to be easiest for a lot of people, and while I understand the appeal of instant delivery I do ask for you to think about your impact (this is not a guilt trip, just a reminder to consider all options). Sometimes the book you've been dying to read just isn't sold near you, or maybe you want the box set. Some online options are Amazon, Audible, Book Depository, Book Outlet, Wordery, Booktopia (AU), Better World Books, Thrift Books and plenty more. I implore you to do your own research about online book stores that are relevant to you (like I searched up 'buy books online' and had a lot of NZ sites show up, that wouldn't be useful to someone buying from the US).
🌷 Choosing if you should buy any fanart, the rest of the series, or additional merchandise
This is the struggle that I am sure most bookworms have. I want the merch! The candles! The Limited Edition book sleeves! The custom Pop Vinyl figures! The posters! The cushions! The bookmarks! I want all of it! Unfortunately, I really can't afford to do that. So, I am constantly faced with the struggle of whether or not to buy the associated books in a series, and the merch.
One of my points is, what if I am book three into an eight book series and I loved it, bought all the merch, the entire series, I have candles and bookmarks, but then open up book four and find the rest of the series to be a massive disappointment? I don't want constant reminders of a series I no longer find myself wanting to read.
So, I think wait until the end of the series. You can then invest in beautiful copies, or framed art, or pieces you know you'll continue to love. But still, the FOMO, especially when it comes to Limited Edition boxes and Hangover Kits is so very very real.
🌷 Some tips
Write it down! Use a notebook, or a document, or a spreadsheet, but write it down! You can have a better gage of what you buy, where and how much you spent – and then you can decide whether or not you can afford to get more books or to cut it down or find cheaper alternatives
I'm a physical book lover all the way, but sometimes using your kindle is the cheapest option when it comes to book buying. That also means you spend less money finding out if you love the book (or hate it). If you love it, then you can save up to buy yourself a special copy!
Sales are your friend, trust me, and so are second hand stores! They tend to have many popular books, and hidden gems.
I know it sounds terrible, but wait four or five months before you buy a book. It should help keep the price down as it isn't technically a new release. Sometimes a store will also allow pre-ordering options which can sometimes mean cheaper prices!
This is (significantly) pricier, but if you are dead set about getting some bookish merch, treating yourself to a book box might be the way to go! Lauren has some awesome unboxings so I recommend checking out her posts so you can get an idea of what is inside.
I don't wanna be super obvious here, but using the library is also a good way to get books! You can get ebooks and audiobooks through most libraries, too!
Don't get a special edition if you are not 110 % sure you'll love the book! Special Editions can be up to $20 or $30 more than a regular copy! If you haven't read the book, or are only sort-of convinced you'll like it, avoid buying special editions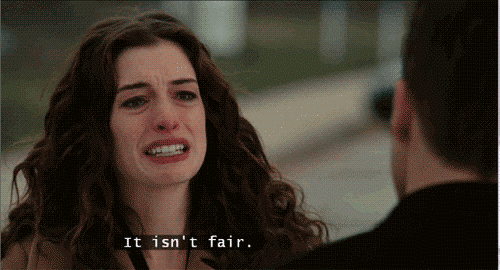 Me crying because I'll never own all the books I want
WHAT ARE YOUR BOOK BUYING TIPS?