I am going to be on holiday in the UK over Christmas (Yay!) and I won't be able to do a lot of blog hopping or replying to comments, but I would still love it if you do comment! I will reply ASAP when I get back !
Absent dates: 17 December 2019 → 18 January 2020
This is my 8th Blogmas post for 2019!! This is the All I Want for Christmas Tag, written byA Thousand Lives of Daisy on Youtube! I've added her video to the end of the post for you guys to watch too! Thank you so much for making this tag, Daisy. Shall we continue to the post? !
What fictional character do you want Santa to leave under your Christmas tree?
All of them! Wait, no, to be fair I don't think that even the Hogwarts Christmas trees could fit all the characters. How about Scarlett from the Aurora Cycle? I need someone to teach me diplomacy.
🖋️ : Aurora Rising by Jay Kristoff and Amie Kauffman Review
📚 : Aurora Rising by Jay Kristoff and Amie Kauffman
What character do you want to kiss under the mistletoe?
*Sweats nervously* Um, there is a huge list of my book boyfriends and I don't think that I could single out any one person.
You write your Christmas list for Santa, what are the top five books on it?
The covers within these pieces link back to the Goodreads page for that title.
Wilder Girls by Rory Power — Synopsis & Cover

It's been eighteen months since the Raxter School for Girls was put under quarantine. Since the Tox hit and pulled Hetty's life out from under her.

It started slow. First the teachers died one by one. Then it began to infect the students, turning their bodies strange and foreign. Now, cut off from the rest of the world and left to fend for themselves on their island home, the girls don't dare wander outside the school's fence, where the Tox has made the woods wild and dangerous. They wait for the cure they were promised as the Tox seeps into everything.

But when Byatt goes missing, Hetty will do anything to find her, even if it means breaking quarantine and braving the horrors that lie beyond the fence. And when she does, Hetty learns that there's more to their story, to their life at Raxter, than she could have ever thought true.
A House of Salt and Sorrows by Erin A. Craig — Synopsis & Cover

In a manor by the sea, twelve sisters are cursed.

Annaleigh lives a sheltered life at Highmoor, a manor by the sea, with her sisters, their father, and stepmother. Once they were twelve, but loneliness fills the grand halls now that four of the girls' lives have been cut short. Each death was more tragic than the last—the plague, a plummeting fall, a drowning, a slippery plunge—and there are whispers throughout the surrounding villages that the family is cursed by the gods.

Disturbed by a series of ghostly visions, Annaleigh becomes increasingly suspicious that the deaths were no accidents. Her sisters have been sneaking out every night to attend glittering balls, dancing until dawn in silk gowns and shimmering slippers, and Annaleigh isn't sure whether to try to stop them or to join their forbidden trysts. Because who—or what—are they really dancing with?

When Annaleigh's involvement with a mysterious stranger who has secrets of his own intensifies, it's a race to unravel the darkness that has fallen over her family—before it claims her next.
Serpent and Dove by Shelby Mahurin — Synopsis & Cover

Bound as one to love, honor, or burn.

Two years ago, Louise le Blanc fled her coven and took shelter in the city of Cesarine, forsaking all magic and living off whatever she could steal. There, witches like Lou are hunted. They are feared. And they are burned.

Sworn to the Church as a Chasseur, Reid Diggory has lived his life by one principle: thou shalt not suffer a witch to live. His path was never meant to cross with Lou's, but a wicked stunt forces them into an impossible union—holy matrimony.

The war between witches and Church is an ancient one, and Lou's most dangerous enemies bring a fate worse than fire. Unable to ignore her growing feelings, yet powerless to change what she is, a choice must be made.

And love makes fools of us all.
Damsel by Elana K. Arnold — Synopsis & Cover

The rite has existed for as long as anyone can remember: when the prince-who-will-be-king comes of age, he must venture out into the gray lands, slay a fierce dragon, and rescue a damsel to be his bride. This is the way things have always been.

When Ama wakes in the arms of Prince Emory, however, she knows none of this. She has no memory of what came before she was captured by the dragon, or what horrors she has faced in its lair. She knows only this handsome prince, the story he tells of her rescue, and her destiny to sit on the throne beside him. Ama comes with Emory back to the kingdom of Harding, hailed as the new princess, welcomed to the court.

However, as soon as her first night falls, she begins to realize that not all is as it seems, that there is more to the legends of the dragons and the damsels than anyone knows–and that the greatest threats to her life may not be behind her, but here, in front of her.
Stepsister by Jennifer Donnelly

Isabelle should be blissfully happy – she's about to win the handsome prince. Except Isabelle isn't the beautiful girl who lost the glass slipper and captured the prince's heart. She's the ugly stepsister who's cut off her toes to fit into Cinderella's shoe … which is now filling with blood.

When the prince discovers Isabelle's deception, she is turned away in shame. It's no more than she deserves: she is a plain girl in a world that values beauty; a feisty girl in a world that wants her to be pliant.

Isabelle has tried to fit in. To live up to her mother's expectations. To be like her stepsister. To be sweet. To be pretty. One by one, she has cut away pieces of herself in order to survive a world that doesn't appreciate a girl like her. And that has made her mean, jealous, and hollow.

Until she gets a chance to alter her destiny and prove what ugly stepsisters have always known: it takes more than heartache to break a girl.
It's Secret Santa at Hogwarts, what do you most want to receive?
The Mirror of Erised as a book! Or a book voucher. Both are good.
You get to spend the day with the characters and movie actors from one fandom, who do you pick?
I pick the Hunger Games Fandom. The characters are all so strong, and the actors seem like they would be really fun to spend time with. Especially Jennifer Lawrence, she's awesome!
What fictional animal would you like to replace Rudolph and be able to meet on your roof?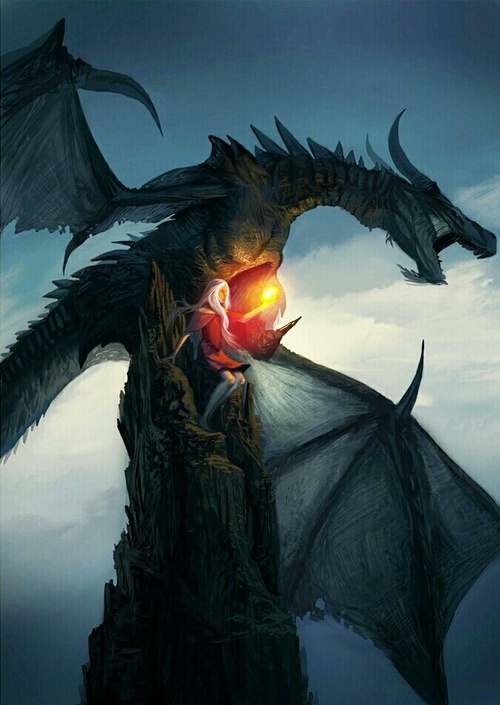 A wyvern! Imagine Santa being led by a flock (?) of wyverns! It would be awesome! Also, a wyvern is my answer for every question regarding fictional animals. I love them!
You invite 10 fictional characters to your new years eve party, who do you pick?
I mean, only ten?! Okay, well, the Inner Circle makes six, and then Scarlett and Lara-Jean, and then Fred and George, makes 10!
What character would make a good Santa ( doesn't have to be appearance, personality counts too! ) ?
Hagrid, duh! Both personality and looks wise!
I won't be tagging anyone this Blogmas, but feel free to do this tag! Link back to me so I can see it 🙂